Changing the World,
One Generation at a Time
At Rashtreeya Vidyalaya (RV) Institutions, we offer an education that helps individuals realize their aspirations, regardless of who they might be or where they come from. Established by our Founder Sri M.C. Sivananda Sarma in 1940, our colleges and schools enable students to grow through every stage of education — from kindergarten to a master's degrees, and beyond.
See how you can support our mission of giving everyone the education they deserve!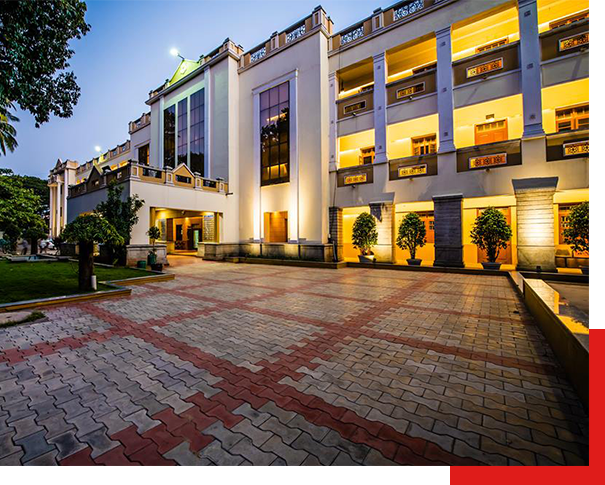 The Future Awaits at RV Institutions
Dr Raghavendra is a passionate, dedicated, and knowledgeable Sanskrit teacher at RV PU College, who recently won INR 12.5 lakh at Kannadada Kotyadhipati.

Mr A.V.S. Murthy — our Honorable Secretary at RSST — was recently conferred with the Karnataka Rajyotsava Award for Education.

An architect and a visionary, Namrata was one of the few women to be selected for the Asia Young Designer Award 2019.

The first visually impaired woman to secure a doctorate, Dr Sangeetha — a scholar at RV — is an inspiration to everyone.

Priya, a student of the PCMC division, scored an exceptional 98.83% in the II PUC board exams — securing the second rank in Karnataka.

A civil engineer from RV College of Engineering and a research scholar at the Indian Institute of Science (IISc), Kashif recently received a research grant worth INR 2 lakh per annum.

Sri M.C. Sivananda Sarma
Our Founder
Rashtreeya Sikshana Samithi Trust (RSST) was founded by the late Sri M.C. Sivananda Sarma — a teacher and freedom fighter — hailing from a small village in the erstwhile state of Mysore…
Click here to find out more about Sri Sarma's journey